"One World Many Faces" is the theme of the Iconic Toowoomba Languages and Cultures (TLC) Festival – an annual celebration of the
diversity in our community and a showcase of talents and colour from across the world!
The vision of the Toowoomba Languages and Cultures (TLC) Festival is a celebration of the diversity of languages and cultures that exist within the Toowoomba region.  Over 22,000 people attend the event.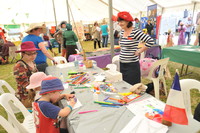 The TLC Festival brings together over a hundred community groups, servuce organisations, businesses and partners within the Toowoomba region to support and encourage a sense of belonging and community harmony in our area. The TLC Festival is an opportunity for families to have a fun day out that offers something for everyone.
The philosophy and purpose of the Toowoomba Languages and Cultures Festival is to provide an annual opportunity for all community members:
to learn about, and grow to understand, other cultures, religions, nationalities, languages, backgrounds, and ethnic groups;
to explain one's own culture, language, background, or religion to others who express an interest;
to meet others of different background(s), whom one might not encounter in one's everyday routine;
to do this in a fun and caring, safe and entertaining environment; and
to have the opportunity to appreciate the best in those who differ from ourselves, and
to form friendships and build networks that unify the community across linguistic and cultural lines.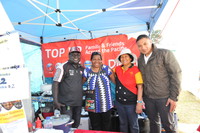 The Festival also:
affirms the best and most unifying aspects of our existing Australian culture, including both the wisdom and knowledge of indigenous people and the contributions of all those who have arrived since, and who, together, have built our modern country; and
provides the Region with a joyful annual event that brings contributors and visitors to the Region, further widening the building of friendships and relations.
The Festival is, and is intended to be, community-based and community-run. It takes no position and promotes no particular opinion on any political or religious issues, in order that no one should feel excluded from contributing in any capacity.
The Festival Features:
– Performances ( 3 Stages with 65+ performances)
– International Food Stalls
– Health & Wellness Expo
– Exhibition Hall and Exhibition Lane
– Languages Activities & Performances for all ages
– Schools Language Activities & Performances
– Market Stalls
– Information dsiplays
– Multi-faith Displays
– Kids Entertainment
– Camel Rides, Animal Farm, Reptile Display
– Workshops/demos